Conservatives or Capitalists?
With Fox News
viewership down 58%
since last November, are they contemplating a shift closer to the center? Keep an open mind and check out this screenshot from the video section under politics on their home page: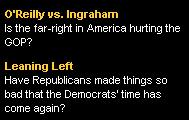 I am aware as any of Fox News' infotainment brand of conservatism; their ability of "catapulting the propaganda" to spin the lies and talking points of the Bush administration is disturbing. While all this is obvious to any discerning viewer, they are after all a business and their numbers are down. Are they recognizing a shift in the attitude of the American people?
We report, you decide.